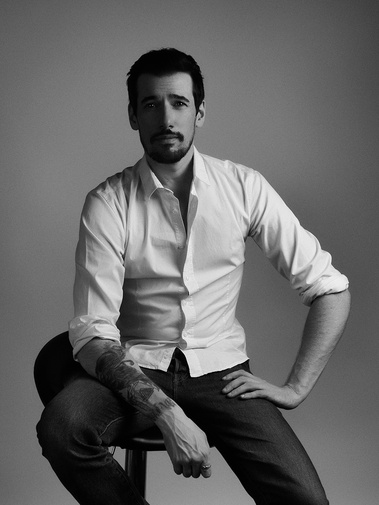 O S K I
Attiré par les arts dès son enfance, Oski s'est formé en autodidacte, se passionnant pour la photographie dans les années 2000. Il décide d'approfondir la technique de la retouche numérique pour en faire un atout et exprimer ainsi ce que la réalité ne peut proposer.
Au coeur de son art, le regard et le corps. Oski aime dévoiler ce que l'humain ne perçoit pas en lui : force du regard, douceur de l'âme, beauté du grain de peau.
Il aime particulièrement réaliser des portraits en noir et blanc et des photographies d'art où sa créativité sans limite lui permet de s'exprimer pleinement.
Au fil du temps, Oski se diversifie et s'intéresse à la photographie d'objet et d'art, ainsi qu'à la peinture digitale.
Après avoir travaillé pour les agences de mannequins à Paris et en Russie ainsi que pour plusieurs artistes et célébrités françaises, il crée en 2018 son propre studio à Paris.
Oski se propose également d'accueillir un public curieux de se découvrir sous l'oeil d'un ar- tiste aguerri. Entouré de toute une équipe, Oski propose une véritable séance de coaching à ces modèles du quotidien, les aidant à mettre en valeur leur regard et leur force intérieure bien souvent peu explorée.
Attracted by arts since his childhood, Oski trained as an autodidact, becoming passionate about photography during the 2000s. The artist decided to deepen the technique of digital retouching to make it a cutting edge asset and thus express what reality cannot offer.
At the heart of his art, the look and the body. Oski likes to reveal what humans does not perceive in themselves : strength in eyes, softness of the soul, beauty of the skin texture. Over time, Oski diversified and became interested in object and art photography, as well as digital painting.
He particularly likes to take black and white portraits and art photographs where his limitless creativity allows him to express fully his talent.
After having worked for modeling agencies in Paris and Russia, as well as for several artists and celebrities of French television, he created in 2018 his own studio in Paris.
Oski also offers unique access to his art, welcoming the general public who wish to discover themselves under his seasoned eyes. Surrounded by a talented team, Oski offers a real coaching session to these everyday models, helping them to enhance their look and their inner strength, which is often little explored.
Expériences professionnelles
M6 GROUPE TV- Télévison Française

W9 - Télévison Française
TEVA - Télévison Française
NOEMIE BRIAND - Artiste joaillière française
CASTA MODEL MANAGEMENT (Russie) - Agence de Mannequins

FASHION VERTIGO - Magazine web

EXCLUSIVE MANAGEMENT (Paris) - Agence de mannequins

STUDIO KLRP (Paris) - Agence de mannequins

WOMEN (Paris) – Agence de mannequins

MADEMOISELLE (Paris) – Agence de mannequins

METROPOLITAN (Paris) – Agence de mannequins

ENJOY (Paris) – Agence de mannequins

IDOLE (Paris)- Agence de mannequins

HYPE (Paris)- Agence de mannequins

STENDHOFF (Paris) - Vêtements de luxe

TIKI SUN (Paris) – Créatrice de bijoux

JOSEPHINE JOBERT - Actrice comedienne

BEL-MONDO - Artiste chanteur

ALEX GOUDE - Présentateur / Animateur TV

DAVID LANTIN - Présentateur / Animateur TV
MOUNDIR - Animateur TV
GILBERT ROZON - Producteur

GIULIANO PEPARINI - Metteur en scène Chorégraphe

LORIE - Chanteuse Comédienne

OLIVIER SITRUK - Comédien

LOUISE EKLAND - Animatrice TV

JEROME ANTHONY - Animateur TV

STEPHANE PLAZA - Animateur TV

KARINE LE MARCHAND - Animatrice TV

STEPHANE ROTENBERG - Animateur TV

GIEDRE MILERYTE-CREAKNITS (Paris) – Créatrice de vêtements

BOLD BOYS (Paris) – Créateur de vêtements

MOON MAKE UP (Paris) - Maquilleuse Professionnelle

ZEPHYR GRAHAM (Londres) – Créatrice et styliste de vêtements

BY LUNA (64 Anglet) - Fabricant d'articles de bijouterie fantaisie

AMANO LOUIS (Paris) - Créatrice de vêtements féminins

AFRICAN WOMEN (Paris) - Magazine de mode

KAYOUA (Paris) - Créatrice de vêtements féminins

SC LABO (Paris) - Mode brésilienne à Paris

Compétences Photographe Evénementiel
M6

TEVA

Ango Production TF1

Point P

BMW

Banque Postale

Gallia

Champagne Charles Heinseck

Rising Star

Rentrée M6 / W9 / 6TER

Galeries Lafayette
Fepem

Val d'Orges

Alstom

Hermès

Dulux Valentine
EDF / GDF
Zenith Optimedia
Nissan
SNCF
RAIL EUROPE
Mim
E.Leclerc
VINCI Construction
FSC France
Compugroup Medical
Invivo
Bledina
Holiday Inn
Argedis
Photographe TV

Total Blackout / W9

La France a un incroyable talent / M6

TOP 50 / M6

Qu'est ce que je sais vraiment? / M6

Les Ch'tis vs Les Marseillais "La revanche" / W9
Storage Wars France / 6ter
Golden Moustache / W9
Photographe Studio

Mannequins / Hommes / Femmes / Enfants / Bébés

Particuliers

Comédiens

Groupes Professionnels